2017 – Access and Empower!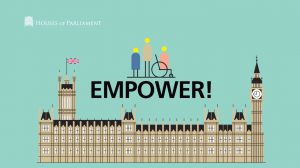 Here at Gilbey Films HQ we have been celebrating the launch of our latest project. The Houses of Parliament Outreach and Engagement team have now gone live with Empower!, based around our training film and accompanying course material, and one of our major pieces of work last year.
Sharon Stanley, who commissioned the project, explains why it is so important: "The film was designed specifically for adults with learning disabilities as they are a largely ignored community who use government services as much as anyone.  I am passionate that they get their voices heard and this resource is designed to Empower! them."
To produce this film, course handbook, participant's handout and other printed materials we enlisted the help of eight wonderful actors from the ALD community. We'd like to thank Sharon and her team as well as all those organisations who helped us in our search. A special mention also to ACE Anglia, Mencap, Scope, Blue Apple Theatre Company and Beaumont College for their help. Our director Kate Lord also acted as casting director and ensured the overall group worked well together. Have a look at our Empower! opening titles – we think you'll agree she did a great job:
We had a fantastic time making this film. These opening titles shot against green screen were particularly fun to create. Each actor was given an imaginary on-screen box to live in and from there they had to wave to or acknowledge other actors as they appeared. We worked with each actor in turn, and to ensure we had the eyeline right we positioned other people around the room – sometimes on the floor, sometimes up ladders – for them to wave to.  Katy said: "I really enjoyed the experience of making the film. I was especially fascinated by the green screen, as I had only come across that at Harry Potter World! I thought that it was funny waving at the people in the boxes that weren't there."
These were the most laid-back, stress-free and fun shoots we've ever had. The Gilbey Films team really enjoyed working with our actors and were so impressed with the hard-work, dedication and skill that everyone brought to the project.  Sharon appreciated our approach: "The entire production team were geared toward making our actors feel comfortable and safe.  Many breaks were scheduled into the sessions, break out areas were provided and everything felt smooth with no pressure at all."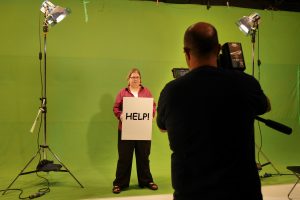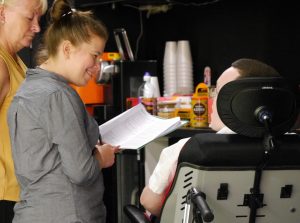 We are so pleased the experience was enjoyable for everyone. "I found my day of filming really interesting," said Ismail. "It was great to meet lots of new people and I really enjoyed working with them. The people working behind the scenes were really friendly, too."  Katy agreed: "I always love meeting new people and I think that the whole team were very friendly and welcoming. I just wish that it could have gone on for longer!"
We spent two days in green screen studios and one day on location. Zara, Ismail and Katy were complete professionals and delivered perfect pieces to camera in front of iconic locations. They were so focused, not allowing themselves to be distracted by their environment.
And Ismail agreed. "I found the acting really fun because it was very different to what I do in my everyday work! I also had the chance to stand outside Number 10 Downing Street, which was really exciting! We even saw the cats.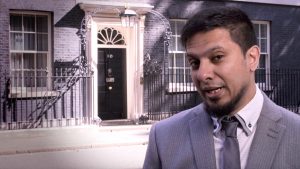 So, what about the end result? "The final film was amazing and everyone involved was fantastic," said Katy. Katy's mum Ros was one of the many support workers who helped us with the filming: "Katy hasn't had a bad word to say about any of it.  I agree with her and think that you all did a wonderful job and were very patient and understanding. I hope that you are all as happy as we are." Ismail sent us a message and it made our day. "It makes me feel really valued to be part of this film and I'm very happy with how it turned out!" So are we Ismail, and we want to thank you all.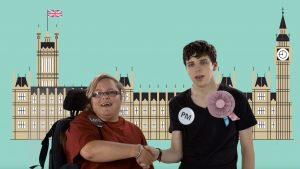 An important aspect of the Empower! brief was the look. It needed to feel bright, engaging and modern. And the starting point for that was with our designer Jo Hooper. Jo used the in-house graphics for her colour palette and created backgrounds for the film and all the printed material. She used the existing icons and created more in the same style. And she introduced circles for all the key images to make the information simple, clear and direct.
Everything flows from the graphical look. It gives the film identity and it links the ideas through to the printed material and lives on in the participant's handout which they take away with them.  Jo also came up with the fantastic idea for the opening titles, so thank you Jo!
And on that note, a big thank you too to the highly skilled, resourceful and patient James Meurer. Not only did James shoot all the material, working closely with Kate to get the very best performances from our actors, but he edited the films too. It was his mastery that turned Jo's concept for the opening titles into reality.
We are extremely proud of the film and the associated print material and are delighted with the reaction of our clients, the people we worked with and the user-groups who have been on the workshops. Sharon can have the last word: "Gilbey Films met all of our needs and more. The film just makes everyone smile. The design of the resources is outstanding; colourful, fresh and eye catching. Our client base love it so much they want to take the cards home! The project was produced on time and in budget with communication ongoing throughout – exceptional service."
If you would like to see the film it is in 8 chapters, and can be watched here: Empower! full film
---